This guide will cover Moving Average Convergence/Divergence (MACD) and how you can use them in your crypto-trading journey!
This may look like a long guide but we promise – it isn't difficult! This is not financial or investment advice. You should always consult with a certified financial planner before making any decision based off techniques from these posts.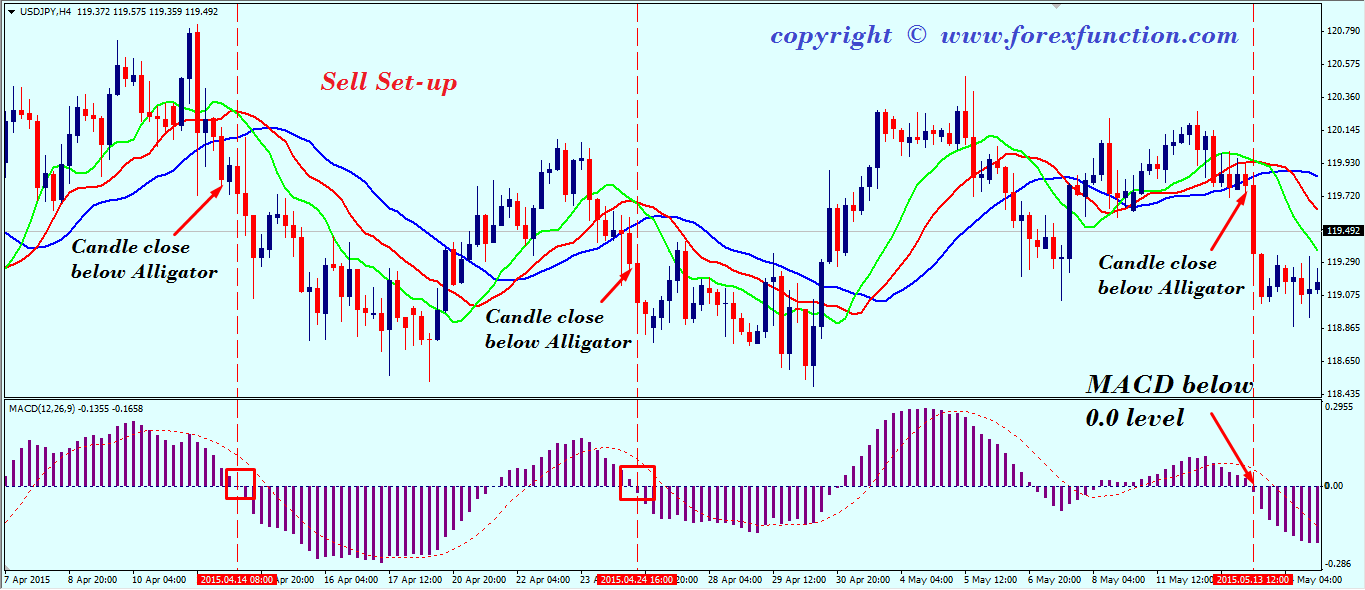 We'd love to know what you'd like to see next!
What Is Moving Average Convergence/Divergence (MACD)?
The Moving Average Convergence/Divergence or, MACD, is one of the most common momentum indicators. In essence, using this indicator can be beneficial in helping to spot trends in cryptocurrencies before they even happen!
The MACD is used by investors in a variety of market-types and industries and is certainly applicable to the ever-volatile cryptos.
You can use this to find trends, and it's ideal to use to determine how long to stay in trends until momentum is falling off.
Setting Up a Moving Average Convergence/Divergence for Crypto-Trading
For this guide, we'll use the Trading View website to set up our chart and use Ethereum (ETH) as our example.
It's important to note that the MACD is best used on the daily chart for crypto-trading, but can also be used on monthly and longer time-frames to show long-term trends.
In the upper-left hand corner, type in ETHUSD.

This will show the Ethereum/US Dollar chart.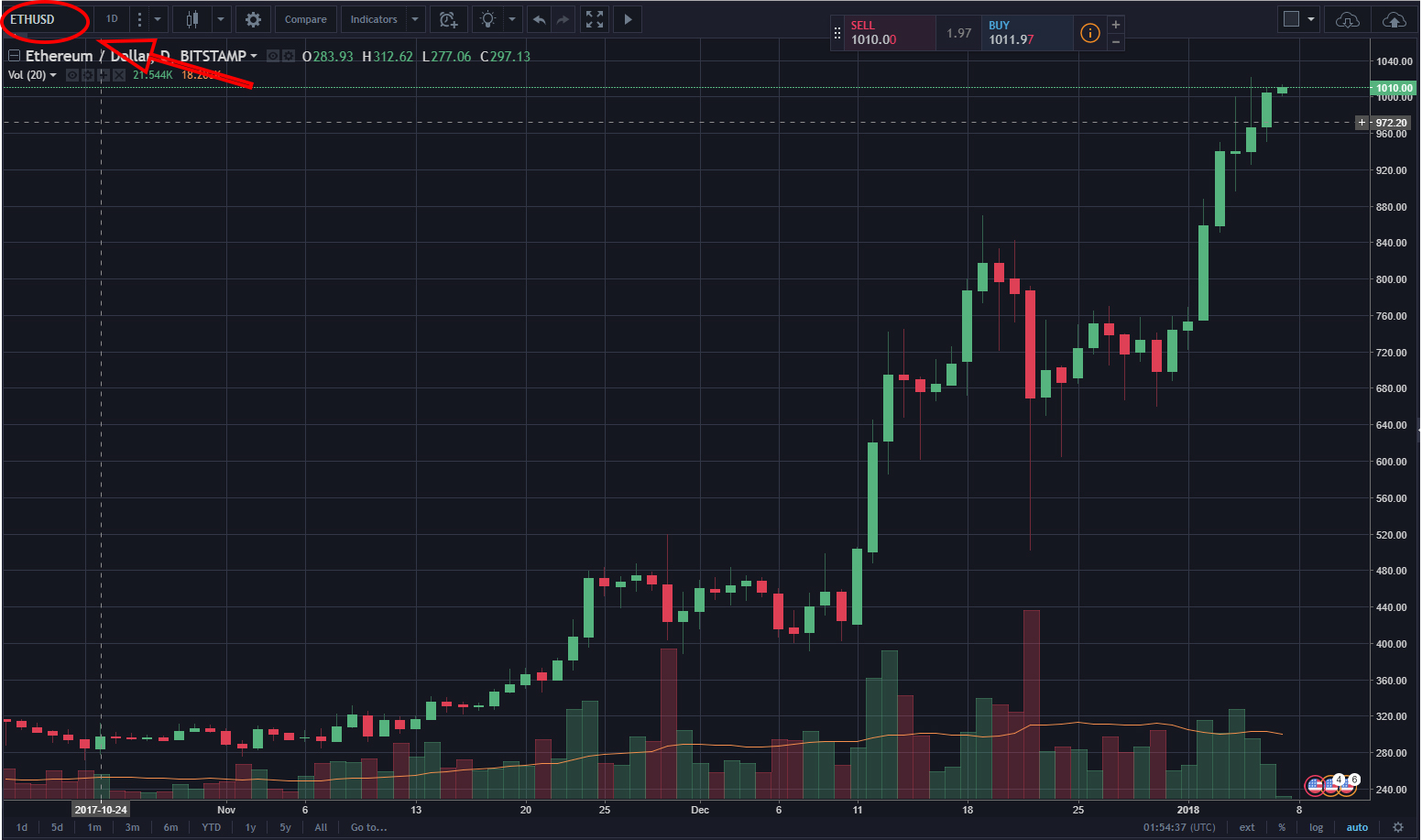 Next, go to the "indicators" tab and type in "macd" and click on it once.
You'll see the MACD in the lower portion of the screen, showing "MACD" in the upper-left hand corner.

Easy, right!?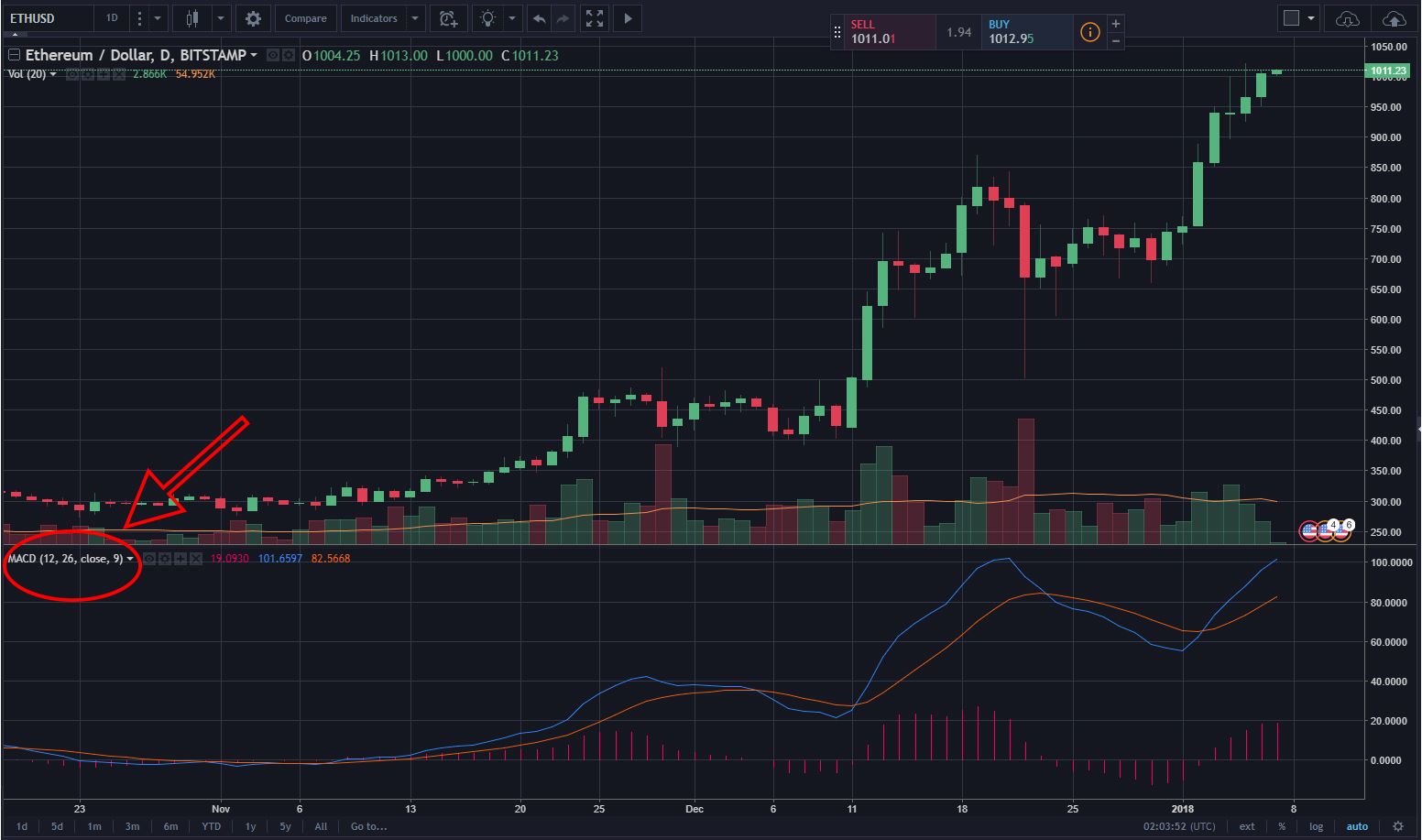 …But What Does It All Mean?
I skipped this part in the beginning of this guide because I want you to look at your graph now that you have it set up and have a visual.
Let's now dive a little deeper into the MACD…
When you look at your MACD chart, you'll notice that there are 3 variables that make it up. You'll find a blue line, an orange line, and some pink bars.
The blue line is the 12-day exponential moving average, while the orange line is the 26-day exponential moving average.
The pink bars are indicators which determine the distance between the orange and blue lines.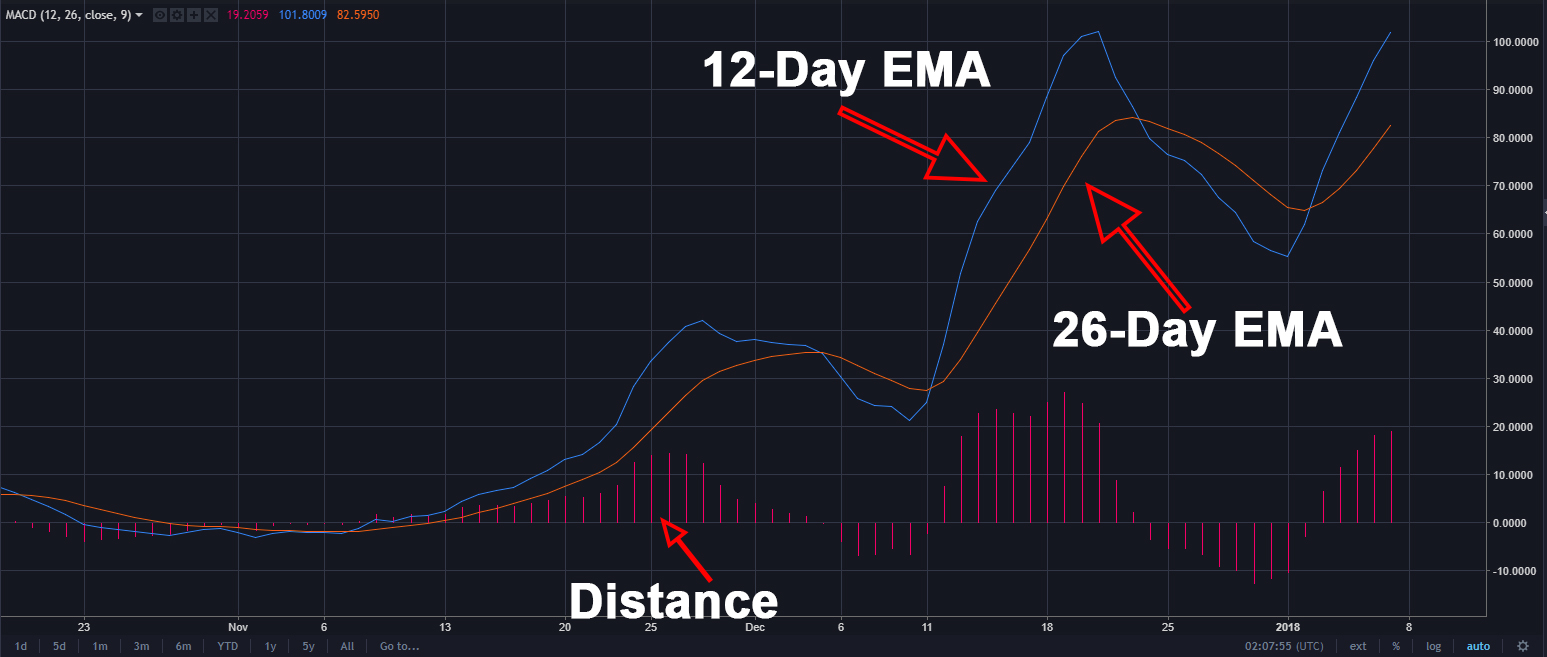 Here are a few observations from the MACD that you can use in your trading:
Orange line (26-day exponential MA) higher than blue line (12-day MA): You'll see that the pink bars are pointing downwards.
If you consistently see that the blue line is underneath the orange line, this can mean that we're experiencing a pullback in the market.
MACD Settings For Intraday Trading
When you see the pink bars pointing downwards (if they are long) this can mean that the market may be over-sold.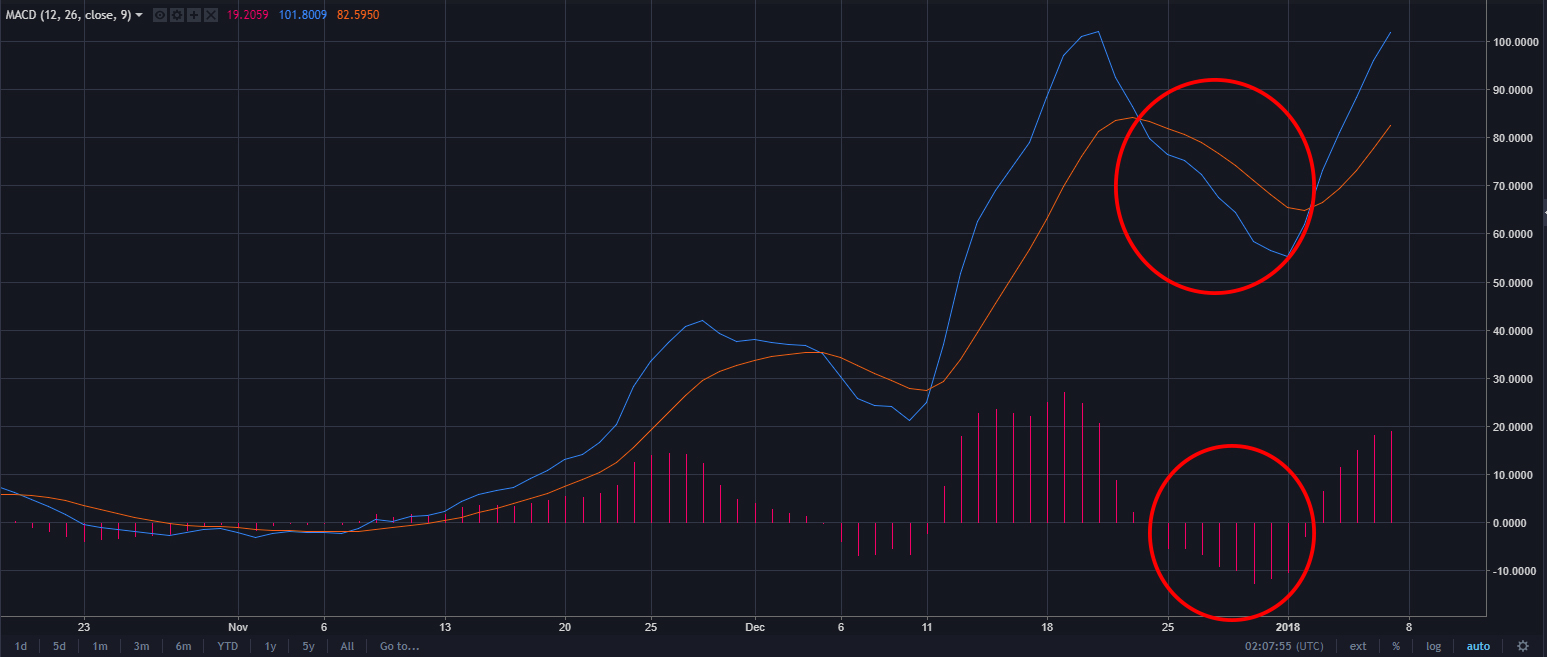 Orange line (26-day exponential MA) lower than blue line (12-day MA): You'll see that the pink bars are pointing upwards.
In general, we like to see the blue line staying consistently above the orange line.
The Best Times to Use the MACD Indicator
This shows that there is confidence in our market and an uptrend. But, when you see that there is a lot of space between these two lines (signaled by long pink bars pointing upwards) this can be an indicator that the market is over-bought.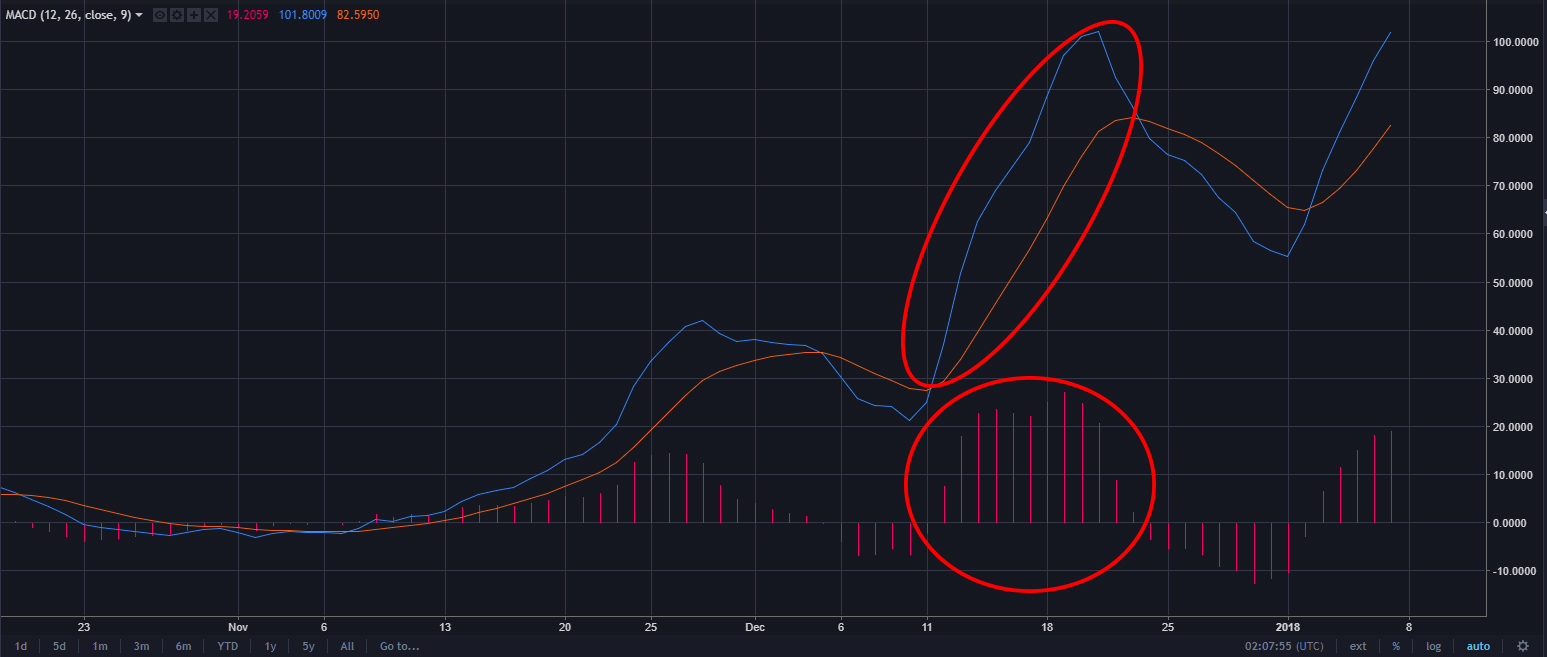 MACD Crossovers: This is simply where the blue line and orange line cross one another.
Trading Examples – Day Trading with Bollinger & MACD
When the blue line crosses the orange line from above, this may mean a market is over-extended. When you see the opposite, this can signal confidence and an on-coming uptrend.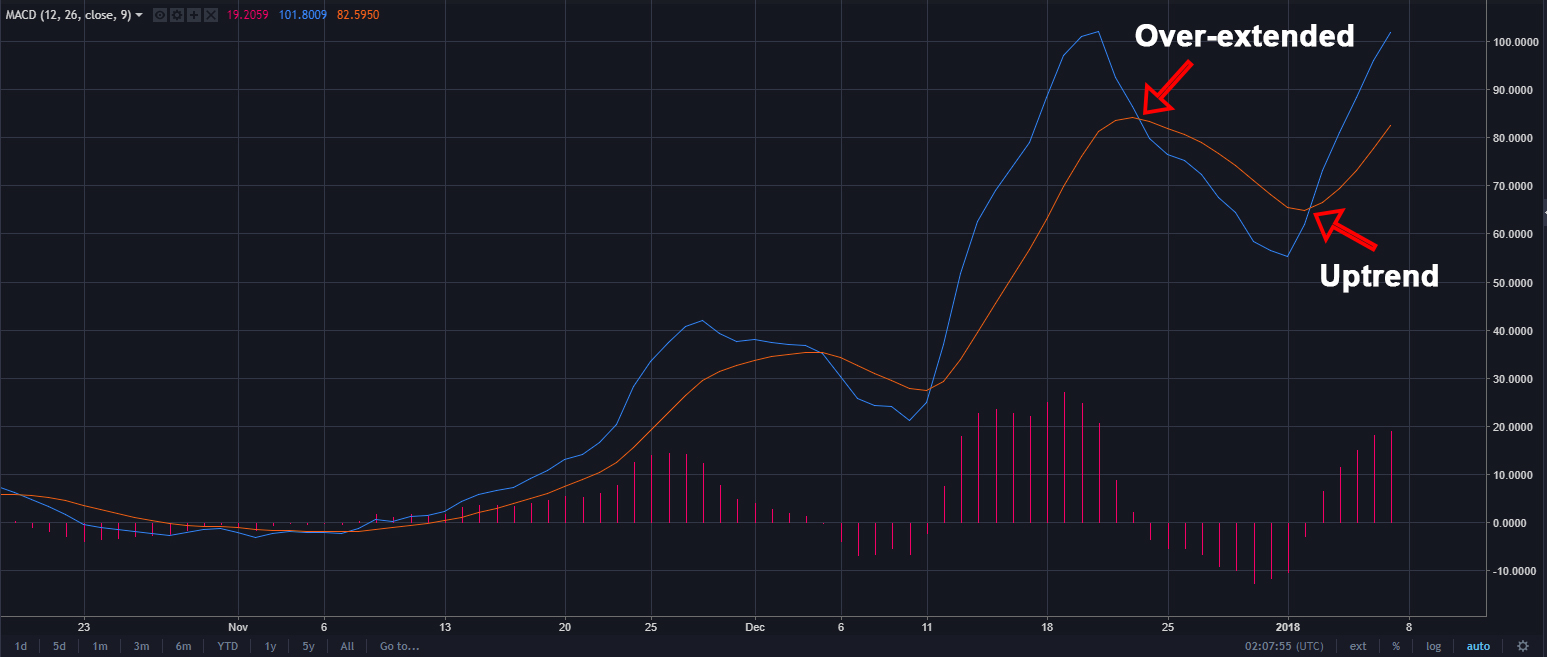 Still have questions? Check out Investopedia's explanation of the MACD too.
Tags:crypto-tradingmacd